A Read Aloud Adventure
SYNOPSIS
"Misho of the Mountain" is a book with a mission: to help children cope with hardship and failure. An engaging adventure for ages 5-9, "Misho…" is for grown-ups, too. Misho's theme helps parents, teachers, and therapists to open dialogues about tough topics, like what to do if life doesn't turn out exactly how we expect. (Read more for parents.)
Misho is a tiny seed with a big imagination. In this lavishly illustrated, Early Chapter Book, she discovers an exciting and sometimes scary world on the way to becoming her true self.  Set in a remote forest, "Misho of the Mountain" is a story of exploration, nature, friendship, and the real meaning of success.
Misho's adventure in pursuit of her dreams takes children to beautiful and sometimes lonely places. She finds that strength is a kind of beauty and that purpose can reveal itself when you least expect it.
Read more about the adventure and the message below.
Early Chapter / Picture Storybook
2000 words, 64 pages, 5 chapters
Grades K-4, Ages 5-9, Lexile score ~560
Written in rhyme
Full color illustrations
Dyslexia-friendly font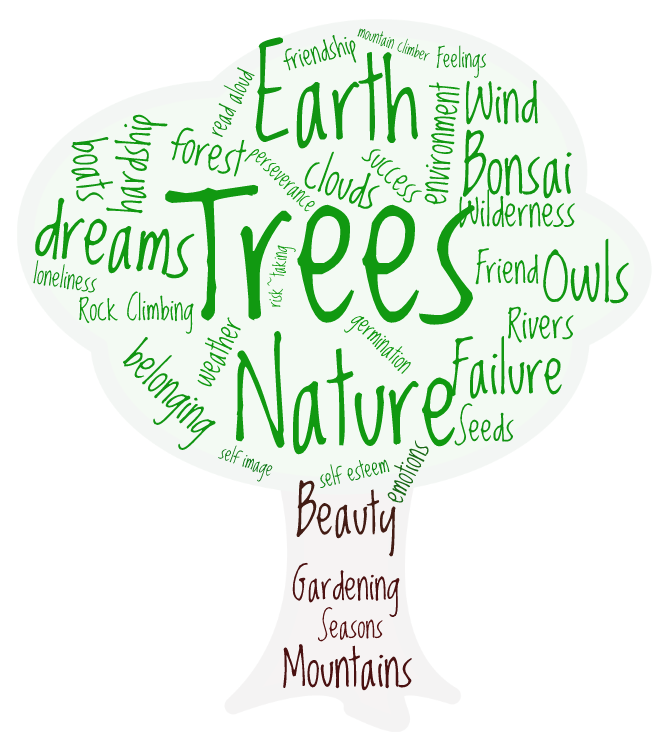 Feeding Two Birds with One Bird Feeder
We believe children will relate to Misho's story on multiple levels. The most beloved books in children's literature can be read again and again.
Social Emotional Learning
Mainstream media hammers today's young people with unrelenting messages about what constitutes achievement and beauty.  The hero must win in the end to be a hero.  The unspoken corollary is that if she doesn't win, she is a loser.  A failure.
What happens inside growing minds when they can't win; when they can't deflect the bully; when they are ridiculed for their appearance?  Even worse, what happens when places that should be safe are not?
Through the message of perseverance in the face of difficulties, Misho's story teaches that failure is just a step on a ladder and dreams are not set in stone.
Misho's best friend, an enthusiastic owl, teaches how to be a good friend. Tomo is Misho's Samwise Gamgee, encourages Misho when she feels that she can't go on and never gives up on his friend.
Love and Respect for Nature
The best way to encourage a deep reverence for Nature is to connect with it one-on-one. During Misho's adventures, she saves a human who then saves her in return. It is a relationship that echoes the interdependence of Humanity and Nature. We need each other. Children come away from the story with a personal connection to trees and the need to keep forests thriving on our planet.
Key Concepts
Friendship, feelings and emotions, trees and nature, failure and perseverance, dreams and risk taking, beauty and self-image, success and failure, self-esteem, loneliness and belonging, grit, individuality
Related Keywords
Bonsai, mountains, owls, rock-climbing, gardening, environment, wilderness, hardship, forest, weather, germination, seeds, wind, rivers, boats, clouds, earth, seasons, read-aloud, pine cone, ecology, depression, resilience, endurance
Hard Cover
Order hardcover copies of Misho directly from the author. Hardcover books make excellent and lasting gifts.
Paperback
Paperback books provide an affordable way to build your library.  Order several copies! Through Amazon.
E-Book
Add "Misho" to your digital collection via Amazon. Misho will be available in the following formats (TBD).
$TBD
ISBN-10:0-9977384-0-5
ISBN-13:978-0-9977384-0-7
$TBD
ISBN-10:0-9977384-1-3
ISBN-13:978-0-9977384-1-4
$TBD
ISBN-10:0-9977384-2-1
ISBN-13:978-0-9977384-2-1
About the Author and Illustrator
The Illustrator
Teri Rider is a graphic designer specializing in book design and illustration. She discovered her love of books when she began illustrating for a well-known publisher of special education material. She authored, illustrated, and collaborated on hundreds of books during her employment there.
Teri now owns her own graphic design studio where she assists authors to self-publish their works. Her primary interests are illustrating children's and young adult books and book cover and interior design for all genres.
The Author
If there is one word that describes Diana's interests, it's eclectic. She was an honors physics student, practiced large, small, and exotic veterinary medicine, and led a Web and documentation team at the San Diego Supercomputer Center. She managed the aquatic plant section of a tropical fish wholesaler, bred giant toads from the Amazon rainforest, co-authored an academic paper on how tree frogs stick, and wrote the screenplay for a science fiction movie.
She loves nature and has shared her home with squirrels, opossums, snakes, turtles, frogs, lizards, cats, dogs, birds, and fish. In her professional role, she has performed surgery on a piranha and helped to rehabilitate a moray eel with a broken back.
Misho of the Mountain is her debut children's book. She lives in San Diego with her family, surrounded, often quite literally, by her pets. When she is not in front of her computer, you'll find her in her garden.
The Collaboration
Traditional publishing requires the author to accept the illustrator that the publisher provides.  But Diana wanted someone who could care about her characters on a personal level and bring them to life on the page with delicacy and empathy. Having worked with Teri on an anthology of short stories in the past, she chose Teri to illustrate her book. The decision to self-publish was born.
Save a Tree, Save a Child
"Misho of the Mountain" evolved over time. Their weekly meetings over the lifetime of the project allowed them to fine tune the textual story as the illustrations defined the visual story. But the project always rested on their core values.
Diana was ecstatic to work with someone with a shared reverence for nature and our legacy to future generations. They both believe that preservation of our forests is fundamental to a healthy planet. They hope that children will learn to cherish our wild places more readily because they identify with a single tree, our protagonist, Misho.  And on a very personal level, they want Misho's story to help nurture tenacity and resilience in a changing world.
Genre Rebels
Believing in the synergy of words and images, Teri and Diana decided to break from conformity.  At 64 pages of color illustrations and 2000 words, "Misho of the Mountain" straddles two children's book genres.  Traditionally, picture books are around 32 pages and contain no more than 500 words–sometimes no words at all.  Books at the Early Chapter level are longer but far more sparsely illustrated.  But Misho's adventure needed a big canvas. Like Misho, they decided to "go out on a limb," to take a risk by combining color illustrations with chapter-level text. They both adored illustrated books throughout their childhood and continue that love to this day.
Serendipity
Life can be unpredictable, despite our best plans and most hopeful dreams. Misho's adventure is about that unpredictability and how important it is to persevere, because you never can tell when you might meet someone who will enter your life for a day or a lifetime and affect your future in profound ways.  Some of the most auspicious collaborations spring from random chance.  Teri and Diana both feel fortunate, indeed, to have joined forces for "Misho of the Mountain."
Related Misho of the Mountain Pages